Volunteering doesn't have to be inconvenient, costly, time-chewing, or difficult to schedule. In fact, a lot of volunteering can be done from home or online. Got some time after the kids go to bed? Work graveyard shift and have downtime between answering calls?
Volunteering can be a great way to trial a career you might be looking to go into, or get experience while graduating to give you an edge on competition when applying for jobs. On-the-job experience is always a perk on a resume.
Online activities are also good for those with disabilities or mobility issues.
Below are volunteering opportunities where helpers can assist comfortably wherever they are, whenever they have time.
Free literature with proofreading! In most countries, literature becomes free or public domain 50-100 years after the death of the author. Project Gutenberg is a long-lasting initiative, bringing literature into the new world. Many titles that would have been lost on musty shelves are being transferred into e-Book formats to be downloaded free via their public database. What keeps the initiative going are volunteers such as the Distributed Proofreaders group. DPs log in to be given a scanned page of a book, then the text version beside it, to look for errors and fix them before the texts are placed into e-book form for distribution. There is no obligation of time. You are given random pages, meaning a project won't be held up if you only have time to volunteer sporadically. However, work you do complete will be gratefully received and documented in your account.
Link: http://www.pgdp.net/c/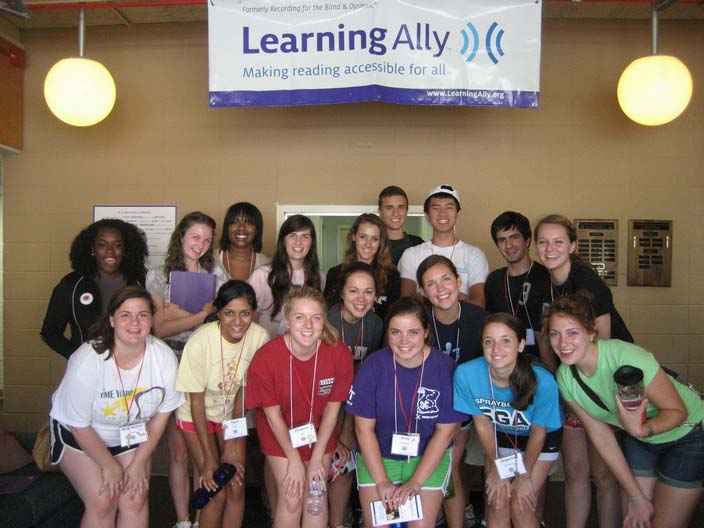 Learning Ally is the producer of audio books. Their work benefits more than 200,000 students and adults who find print a barrier to their goals. Some educators who are subscribed to the service say that children with learning difficulties find audio books more accessible than printed books. Volunteers are sought to read aloud books and record it from home with basic equipment such as a headset. What separates Learning Ally from other audio book providers are notes are included on describing diagrams so that readers aren't left behind by missing out on this crucial part of learning through books.
Link: https://go.learningally.org/about-learning-ally/volunteers/
Translators Without Borders have translated over 30million words since 1993, but aim to reach 10million words per year with their Internet outreach programs. They are looking for volunteers who have professional experience with translation. Translators will work with important documents that newcomers, particularly, refugees will rely on, such as directions on how to reach locations, instructions about living in asylum centres, media roundups, weather forecasts, and articles that assist in their adapting to the new country or area. Such information can be instrumental during disasters and crisis where careworkers need to communicate with people who do not speak English.
Link: http://translatorswithoutborders.org/Volunteers
Tour de Cure is all about raising money and funds for cancer research, support and prevention projects in Australia. In past, they have helped fund 18 cance breakthroughs. They have done this by organising bike events for sponsorship, as well as their annual ball. Since 2007, they have raised $20 million. Volunteers are needed to join tours, help organise tours, or alternative tasks such as fundraising events hosting or assisting, graphic design or help with social media advertising.
Link: http://www.tourdecure.com.au/pages/tours/apply-for-a-tour

LibriVox is another audio book distributor looking for volunteers to read and record their content. What makes them different is they focus on public domain texts. The audio files are available for download by anyone, offered as different file types, including through iTunes and MP3 through their website. Volunteer readers are wanted to continue the mission. Their forums have a list of books they want recorded for volunteers to put dibs on. They ask that files are submitted within 1-2 months of accepting sections to read.
Link: https://librivox.org/
Comfort for Critters are a charity that believe in proper adaption of animals that are being re-homed. Their mission is to donate blankets to shelter pets, who then take the blanket with them to their foreve home, ensuring the animal has a security blanket to help them adapt to their new environment, making for happier family pets. In 2015, 8,000 blankets were shipped to happy fluffy owners. Volunteers are needed to knit blankets. (Alternatively, you can donate money for blanket shipments or buy blankets to be sent to a shelter pet.) Their website includes easy-create blanket patterns for even the basic knitter or crocheter. They also have patterns for tied fleece blankets, perfect for children who don't know how to knit or crochet, but want to contribute.
Link: http://www.comfortforcritters.org/
Educurious is all about improving the attitudes and opportunities of students in the United States. Their programs work towards inspiring and motivating students to put effort into their studies and find the career they wish to follow, as well as boost their confidence and problem-solving skills. Some of their programs are done in conjuction with their school, while other work is done via mentoring. Volunteers are sought in professionals who are able to mentor students looking at joining their field of expertise. Educurious will pair a professional with a student for contact and encouragement to begin.
Link: http://educurious.org/