Written by S. Bowyer
Holly Hanes, mother and cancer survivor in North Carolina, United States, was a woman who had very definite views of her battle with cancer and what it meant to have such a condition. Deep down she was a bold woman who people remember for her power and joy. Her videos on YouTube show a lady laden with charm, beauty and robust humour, whether her videos were made at home, or filmed in hospital.
While discussing what cancer patients don't want people to say, she shares what they should say, but also highlights that cancer didn't make her brave. She admitted deep down that there was nothing brave about going through all the procedures, hoping her life would be spared. What made her strong was HER. In a previous video made in 2006, she listed the 41 things she had done, many of them showing she had a strong spirit even before cancer came along when she was 32.
After 7 years of fighting her condition, Holly passed in 2010 at the age of 39, leaving behind many friends and family members, including her adopted children. She left behind many she inspired, including those she met while being an advocate and ambassador for the American Cancer Society. She was a volunteer for the Relay for Life fundraiser event, and encouraged women to opt for early screenings to increase their survival should cancer appear.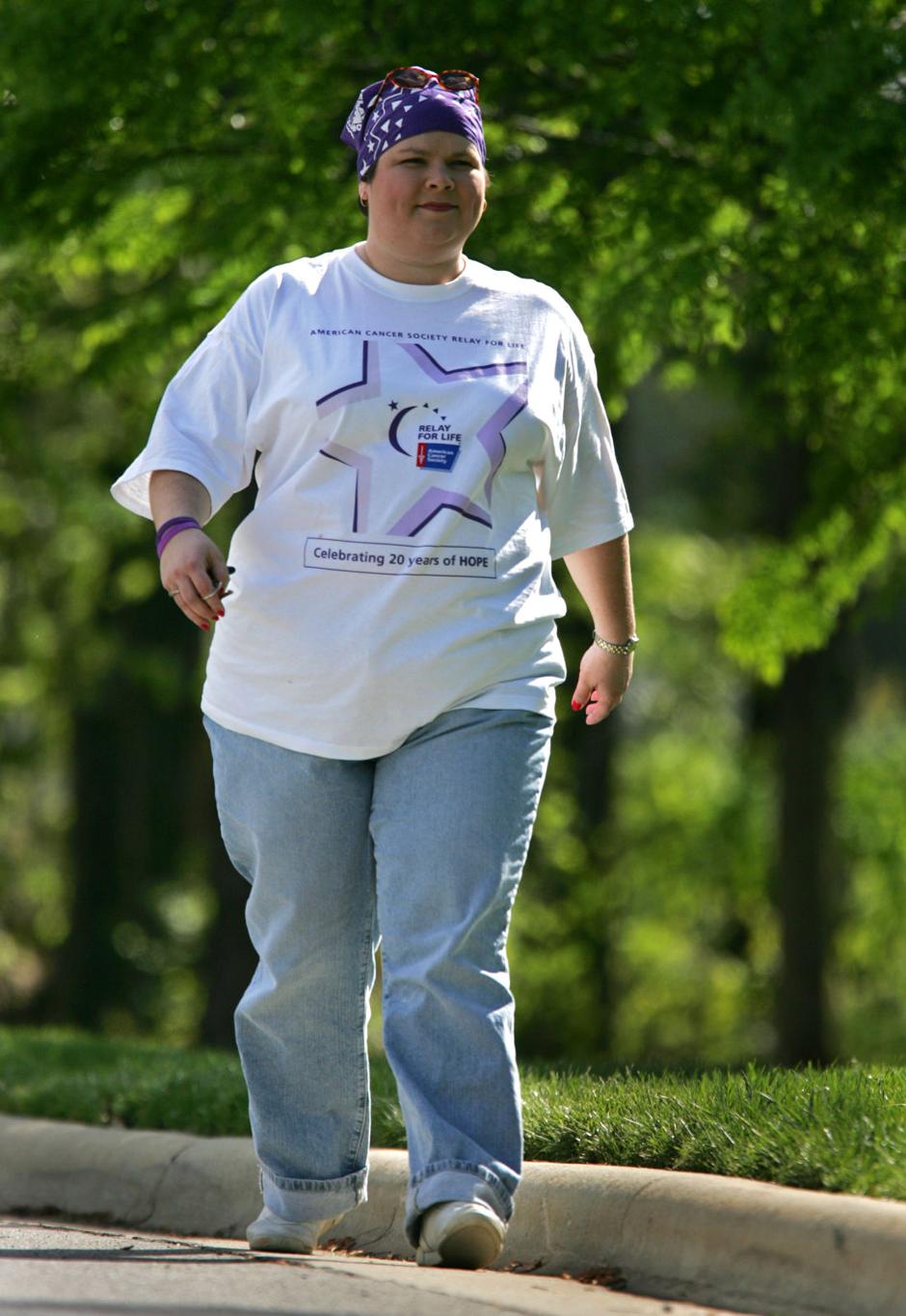 Her mother describes her as fearless. "Holly is my youngest daughter and not sure how to choose one story from 39 years worth of memories. When she was little she would flush everything she got her hands on down the toilet. The plumber came twice a week! One day she asked him if he would like to marry her mother. That was the beginning of many adventures with Holly.
"She decided one day that she was going to move to North Carolina and left Tampa four days later. Then she started a new adventure on her own. She met Scott who was the love of her life And one of the finest men I know. Unfortunately, holly was unable to have children of her own, which led Holly and Scott on a new adventure...adoption.
"As with everything in her life, it was always full speed ahead. Throughout life, holly was blessed with good friends and she was a good friend. She never met a stranger and she was fun! She loved life and she lived it to the fullest until the end. She told me one time that she was not dying of cancer....she was living with cancer.
"Her legacy, the impact that she had on her friends, on her sisters, her children and certainly on all that met her. I love hearing her voice on her videos, I feel her spirit, her humor, her innermost thoughts and I see those dimples! that was my Holly Dolly!"
Loved ones came together for her birthday in June and continue to share her memories on their personal Facebook page, dedicated to Holly's life and determination to survive. Each person shares their story of Holly to celebrate the person she was in their lives and sometimes videos are shared, too.
"When I was diagnosed with breast cancer in 2009, Holly was one of the very first to reach out to me. We spent countless hours (a lot in the middle of the night) laughing, crying, and coping with surgery, chemo, kids, life....," shares Jennifer Pitcher Erwin, one of Holly's childhood friends. "I will never forget her telling me that when she got to heaven she was going to have a talk with Jesus and tell him that it was ok that she left earth early, but that He better keep me around..... Well, 6 years later, after having battled another cancer, colon, which spread to my stomach, liver, both lungs, and bones, my last scan in December was all clear! My doctors have no medical explanation as to why."
Holly's sister-in-law, Jennifer Haynes, says, "She was one of those people who made you laugh and shake your head all at the same time. She was so scheduled and organized. Her children Nicole and Brandon were well taken care of and loved so much by their mother. Holly was someone who kept the family running on all 4 cylinders. She knew what she wanted and she always found a way to make it happen."
Wanda Duty says, "Holly was one of those people that made you feel loved from the moment you met her! Her smile and dimples were amazing and seemed to always brighten wherever she was! Our last time together was when We were home in Fernandina Beach for Easter! We had a great dinner and then we went to the beach to fly kites with Scott and Brandon! She enjoyed life and her family and friends!"
Jessica Raley Alexander spoke to We Say, They Say about Holly in greater depth. The two became best friends after meeting in a Mom's club in 2004. "I was immediately drawn to her boisterous laugh and dimples to match. She was extremely fun and mischievous and her sense of humor kept us all laughing. As luck would have it, our sons also bonded, and like their mothers, became the best of friends."
"Holly was my best friend... She was my rock in so many ways and believe me when I say she would have teased me mercilessly after hearing that. She would break through my pride and make me see the reality I was creating around me..."
"Holly chose my husband before I did... She even went as far to ask him to propose to me in her hospice room because she didn't want to miss even one ounce of my happiness. He didn't, of course, but she made sure to have a letter waiting for me on my wedding day telling me how much she wished she could have been there. I miss her everyday. I love and miss her craziness. I wish I could still hear her. These videos are all I have.. I cherish them."
"During one of our many get-togethers, she told me that she had been cramping for awhile and hadn't gotten her period yet. She chalked it up to being one of those womanly things but I encouraged her to please go get checked out by her gynecologist. She relented and it was through these visits that her Ovarian cancer was discovered."
Towards the end, Holly knew she may not live to see all the events she'd hoped. To prepare, she had a friend type up letters to be given to her loved ones on precise dates. "She wrote letters for her children to open in the big moments of life... moments she would miss. She even wrote a letter to me that I received on my wedding to day to my now husband. She missed attending our wedding by five months," explains Jessica.
"She(the friend) asked Holly if she should address the letter as "To Jessica on the day she marries Brian" or "To Jessica on her wedding day"? You know... just in case she doesn't marry Brian. Holly's response? "If she doesn't marry Brian than she doesn't deserve a damn letter!" Haha!"
Despite the hard times they have faced, Jessica describes the changes since Holly's passing. "Holly's family has had its ups and downs since her passing, but they are all doing well. Scott, her widowed husband, remarried a couple of years ago and their son Brandon, who is now almost 16, lives with him and his wife, Ann. Nicole, Scott and Holly's daughter, lives in New Hampshire near Scott's family and just recently had a baby boy. "
As an onlooker who found her videos and had my interest piqued by her friendly sarcasm and wit, what shines most to me is that this beautiful woman was willing to show her soul to whoever wanted to hear, releasing vlogs and information about herself. Traveling to see family, her latest book review, or any specific moment in her life that was important to her was shown to her YouTube viewers in order to include or comfort them. The videos now serve as a memory of the woman many looked to for guidance in their own health struggles. Holly shared the sides of illness that often only the patients themselves and their families will see.
What was intriguing to realise is that despite the prevalence of cancer, Cancer Australia estimating over 130,000 people diagnosed in 2016 alone, society is still somewhat confused how to respond. As Holly states, loved ones are often stuck on trying to say something positive in a situation where the Cancer patient has no need or patience for platitudes.The attempt to cheer them up is as useful as looking for a proof of heaven or hell to inform them of where they might be going next.
Cancer.org also recognise this, suggesting loved one respond from the heart. "You're not alone if you don't know what to say to someone who has cancer. You might not know the person very well, or you may have a close relationship. The most important thing you can do is mention the situation in some way that feels comfortable for you."
"While it's good to be encouraging, it's also important not to show false optimism or tell the person with cancer to always stay positive. Doing these things might seem to discount their very real fears, concerns, or sad feelings."
OVARIAN CANCER AND ITS GRIP
While Holly might appear one woman, she is a voice for many who suffer cancer. Approximately 1400 Australian women are diagnosed with Ovarian cancer per year. If detected early, there is an 80% survival rate of 5 or more years, however, pap smears will not warn of the condition.
Symptoms are somewhat common to several health concerns, but should be checked out if they are uncomfortable or ongoing. Symptoms include abdominal or pelvic pain, increased abdominal or persistent abdominal bloating, a frequency or urgency to urinate, and feeling full after eating a small amount of food. Concerned patients can download a symptom diary, which helps them record more specific symptoms that could suggest they need to be checked. The diary records:
- changes in bowel habits
- unexplained weight gain or weight loss
- bleeding between periods or after menopause
- back pain
- indigestion or nausea
- excessive fatigue
- pain during intercourse
If you are experiencing any symptoms that are unexplained or concerning, please seek medical testing for early intervention.