Written by S. Bowyer
Coined the Mexican Madonna, Selena Quintanilla was considered one of the greatest Tejano singers of several generations until the fateful day. Although she grew up in America, her father's influence and experience determined her early music to be in Spanish. Her songs resonated with people -- including those of non-Spanish backgrounds, as what did translate was the talent she possessed.
Left: Selena as a child; Middle: the actress who played Selena in the film; Right: Selena as a teenager with her band, Los Dinos.
Selena performed Bidi Bidi Bom Bom, a track that was about the excitement of one's heart when their crush is nearby, as well as many other songs that became hits through her career.
Each time
Each time that I see him go by
My heart goes crazy
And begins to pound and beat
And it becomes excited(it becomes excited)
It no longer reasons
I can't control it
And it becomes excited (it becomes excited)
It no longer reasons
And it begins to sing to me
It sings to me like this, like this
(Chorus)
Bidi Bidi Bom Bom(Bidi Bidi Bom Bom)
Bidi Bidi Bom Bom(Bidi Bidi Bom Bom)
Bidi Bidi Bidi Bidi Bidi Bom Bom
Bidi Bidi Bidi Bidi Bidi Bom Bom
In 1995, it seemed all of Selena's dreams would come true. Her career was at a turning point, where her music was about to see english cross-overs. She was excited by the prosition as she had always been fascinated by American music and wanted to follow the path of her idols. She had opened a boutique of clothing she had designed, her husband, the electric guitarist of her band, by her side. She was the Spanish princess young people looked up to, and her peers respected. A grammy was on her mantle and her sights set for the world.
Yolanda Saldivar
Just as the new CD was being cut and prepared for launch, the fateful event happened. It was brought to Selena and her father's attention that their fan club president, Yolanda Saldivar, was allegedly stealing money. A sum over $30,000 was unaccounted for. Mr. Quintanilla approached Saldivar, who stated she would give them paperwork and refused knowledge for forged cheques that were uncovered. Selena felt betrayed, being a close friend to Saldivar, who relied on her more the longer the two worked together. Saldivar also had an interest in the workings of the boutique.
The next day, Selena attended the hotel room where Saldivar stayed, her husband, Chris, waiting in the car. What happened beyond this remains a mystery. Many stories have surfaced, as well as theories, but the final moments remain the same. Selena returned to Saldivar's hotel room a few weeks later at her request without her husband's knowledge. Some sort of meaningful discussion was had, a gun was drawn, and Selena fled the room, shot. Hotel staff claim they heard Saldivar yell an expletive at the sprinting Selena, before taking care of the young singer on their lobby floor, where she bled waiting for an ambulance. The young singer died shortly after, aged 23.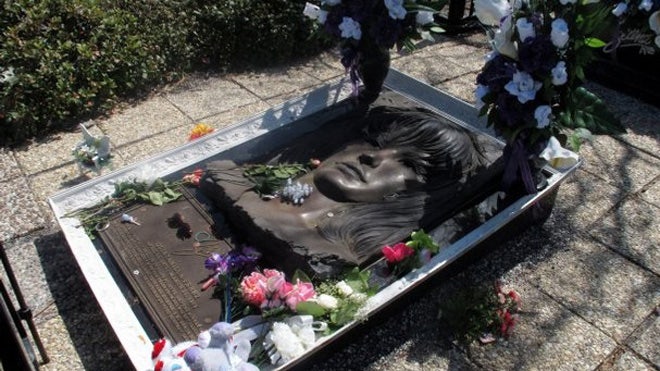 Selena's grave.
Over the years, it has been debated and analysed what happened that morning in the hotel room. Selena's visit has even come under question, some stating it was for further paperwork that had been missing from the pile, others stating Saldivar claimed someone had raped her and needed Selena's support. Much of the mystery stems from Saldivar's appearing confused as to her story of the events. Police state that after the shooting, when they arrived on the scene, the woman was held up in her car, gun pointed at her own head, claiming she'd killed her best friend. However, later on the story changed to state it was an accident. Currently, the several theories circulating are:
1) Saldivar bought the gun to kill herself and Selena was accidentally shot when she pointed at her with the gun to emphasise something.
2) There was a heated argument as Saldivar claimed Selena was cheating on Chris and she had evidence, including a diary, a letter and a video proving selena's infidelity. The gun was fired at some point, never established whether out of self-defence or attack.
The cosmetic surgeon, the supposed lover, Ricardo Martinez, claims they were having a relationship, but Saldivar's comments about their planned Brazilian getaway, and his pressuring Selena to admit to the world, was unfounded. Chris Perez, Selena's husband, states he knew of a friendship with Martinez, but nothing further.
3) Saldivar was obsessive and wanted to kill Selena if she had to share her attention with others. There have been suggestion this could be true, as Abraham Quintanilla states Saldivar approached him to start the fan club, her being well aware of selena's career.
4) Saldivar was gay (Abraham Quintanilla has been quoted as suggesting it) and wanted a relationship with Selena, who refused her advances.
5) It has been alleged that Saldivar approached another Tejano singer, who's family did not allow her access to starting the fan club. It was then suggested she try Selena, "although she originally disliked the singer because she dominated the Tejano Music Awards." Sour grapes?
6) Selena went to the motel room and fired Saldivar from her role, the woman lashing out and shooting her.
Saldivar has taken TV interviews over the years, claiming what happened on that March morning at the Days Inn.
Whatever the reasons, Saldivar held a gun to her head in her car for 10 hours after the shooting. Selena fans arrived at the scene, waiting to see what would happen to the perpetrator. Police negotiators finally coaxed her out and arrested her, at which point fans cheered. It was once in custody that Saldivar's story changed. While many remained puzzled and still question the events, the US courtroom seemed convinced. Saldivar was sentenced to life in prison, parole eligibility in 2025. Although she has filed many parole attempts, including health-based ones, she remains incarcerated. Some state it's for her best, her safety not guaranteed on the "outside" where many fans are still angered at her involvements in the death. Some inmates that share the prison with Saldivar have expressed want to revenge, and so isolation was organised to protect the convicted killer.
20 years later, we are no closer to knowing the truth. Family members of Selena state that Saldivar pestered Abraham to become the fan club president, and that he thought he was safe allowing her, as a background check showed no suspicious information. It was later found that Saldivar had money issues with a previous employer that was settled out of court, hence no paperwork was filed.
Performing a song live in English for the world to see was a dream of Selena's which never eventuated. Jennifer Lopez, who played Selena in the movie documenting the singer's life, decided to include I Could Fall in Love in one of her concerts, in tribute to the fallen star.
This year marks the 20th anniversary of Selena's death, which the family wish to take opportunity to celebrate the beautiful person Selena was. Introducing the once-off event, Fiesta de la Flor (http://www.fiestadelaflor.com/). The event featured artists and family members of Selena performing their music live, including Nina Diaz, Chris Perez, Los Lobos, Los Kumbia King Allstars, as well as a screening of the Selena film, starring Jennifer Lopez in the starring role. Authorised crafts inspired by Selena were also sold, as long as they were high quality products, and not against the merchandising rules stipulated by the organisers.
The family wish to be positive about their life and loss, 20 years later, their still coming to terms where Selena is missing. Her husband, Chris Perez, although remarried, still states, "What I miss most is her smile. I miss her being with me . . . us walking around . . .holding hands . . . arms around each other and joking. . . her laugh. Just, you know, the way she was. I miss everything about her."
Perez also stated that he never realised the impact his wife's music had until over 30,000 people attended her funeral. The public reaction on the TV also displayed how much the public cared for her. After her death, Selena's music went through the roof, her memory earning her best-selling Latin artist of the 90s. Dreaming of You, released after her death, sold 2 million copies and topped the charts.
Chris and Selena on their wedding day.
Perez published a book about his life with Selena during 2012, called To Selena, With Love. He wanted to give a more personal recount of who she was, years after her death, when he was ready to completely share his loss.
"I did suppress all of my memories until this book. That was my way of dealing with it," Perez confides.
A thread on Lipstickalley.com had a debate about why to remember the singer so long after her death. Does the reason she was killed matter? Does her music need to live on?
The NBC News site listed 6 reasons Selena should be remembered. Those were:
1. Selena's bi-cultural life as an American and Mexican person helped Latin people relate to her. She was someone who lived a modest life, despite the sensation she had become.
2. Selena's passing touched millions of people, an amazing outpouring of grief in Texas. Many families even named children after her -- Selena Gomez being one of them.
3. Corporate America was given a wake-up call as to the power of the Latin consumer market. Deborah Paredez, author of Selena, Latinos and the Performance of Memory states, "Her death served as a cue to the larger culture that Latinos were becoming more visible, more important . .. Selena spurred the growth of the Hispanic market. Our culture became a hot commodity."
4. Selena's music reached Latino and non-latino hearts. Her musical fusion really involved people. Paredez says, "She drew from pop, Tejano, calypso, Afro-Caribbean, and cumbia music, so she signaled across a lot of cultural identities."
5. The Quintanilla family have kept her memory alive. Many of them stay in touch with her fans on Facebook, continue to write music and organise events in her spirit, and want her songs to be remembered. Selena's sister and drummer, Suzette, keeps a Facebook page, and her brother, AB, continues to work in music producing.
6. Selena became an icon, not just a singer. Even younger generations consider her their inspiration because of how far her music could reach. Paradez says, "There haven't been enough people like her in the Latino community, so people continue to turn to her, to commemorate her."
Selena's parents, and sister, Suzette, recently.
Chris Perez, when asked what made Selena so memorable, responded, "I haven't met anybody like her. She was definitely one of a kind."