Written by S. Bowyer
While launched a few years ago, this movie has formed a life of its own. ABC Family US and Seventeen magazine joined forces to create this film, wanting to "delete digital drama." Some people loved the result, claiming it gave a face to those who suffer from cyberbullying online, but there was also a lot of criticism. Love it or hate it, it was a movie to bring about strong conversation on the cyber world and its connection to the real world. Years later, the film continues to influence online activities and opinions.
The story begins with 3 friends, Taylor Hillridge (Emily Osment), Samantha (Kay Panabaker) and Cheyenne (Meaghan Rath). It seems like a wonderous event when Taylor gets a new computer for her birthday -- one that she can use without supervision, and doesn't have to share with her brother.
Before long, what starts an exciting venture into the mature world, transforms into a disaster, when someone hacks Taylor's account and writes a mostly-innocent comment on her account. Then more messages appear, and rumours are created. From there deception begins, judgement arises, and the local area is divided between the truth and what is said to be truth.
The movie was influenced by hallmark cases of cyberbullying. One such case is the Meier family tragedy in 2006. Megan, then 13, was a promising student, despite some early emotional problems. After setting up a Myspace account, she met with someone called Josh, who became an online friend. During late 2006, the messages started to change tone, telling her things such as, "I don't know if I want to be friends with you anymore because I've heard that you are not very nice to your friends." Instead of discarding the messages, a now-attached Megan continued the communication, as Josh began to bully her via an instant messenger, telling her the world would be a better place without her. A day later, Megan hung herself in her room with a belt in her bedroom closet.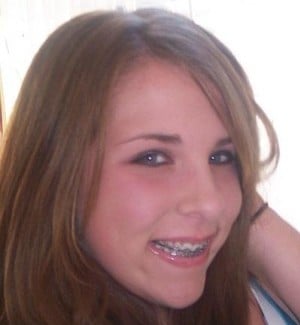 Megan Meier, age 13.
What made this case more worrisome was the discovery of the identity of the real "Josh." He was the collective input of several people, including an ex-friend of Megan's and the girl's mother, Lori Drew. They stated it was a "joke" when the police tracked them, where they lived 4 doors down from Megan's family. While Mrs. Drew was convicted of Computer Fraud and Abuse, her appeal reversed the conviction a year later. Desipte the conviction turnover, the Internet did not forget. After CNN released Drew's name, blogs and online communities started to shame and attack the family for their involvement in Megan's death.
While nothing can bring Megan back, Tina Meier, Megan's mother, has worked hard to ensure the same will not happen to other young people. The Megan Meier Foundation promotes awareness, education and positivity among children, parents and teachers.
The release of Cyberbully has launched new thoughts and fresh emotions about what happened to Megan, and other children in similar cases. It has also sparked many creative videos that further highlighted that cyberbullying can affect anyone, no matter their race, country, class, profession, age, or even appearance. Reviewers do not deny this, however did make comment of how the movie aimed to reach its audience.
Some of the comments were:
"Too much of this movie's conflict made no sense, because the antagonists had no clear motive. Taylor had no discernible flaws, so she wasn't relatable and Lindsay had no reason to hate her. Moreover, the bullies were people she didn't know who were inexplicably invested in her life. . . Why was the entire school so invested in what Taylor was dealing with? Never explained. Why did Lindsay hate Taylor so much? Never explained."
"While I would agree with some other people's comments that the girl being bullied would likely be popular in real life, the movie as a whole makes a very important point, cyberbullying is a legitimate problem. Technology has made it easier to bully and no matter how hard we try to protect our kids there is no escape from it as the movie points out."
"As well i have a feeling the script took only an hour. A blond 17-years old girl, that is pretty, surrounded by friends and grew up in a stable relationship with her mother...is not capable to resolve a simple problem as this one. . . The movie would have been more interesting, outstanding and REALISTIC without a happy end. Because most of times it doesn't end this way. "
"The movie was even accurate down to the attitude of the school towards bullying, and how in many schools today, the "no bullying policy" does little, if nothing, to help students. . . Beautiful girls (even blondes!) can be bullied too."
"Have you ever watched a movie that inspires you to be a better person? That makes you grin at some parts, and cry at other parts? Well, that was how the movie was for me. Emily Osment was superb. The woman who played the mother was also very good. This movie has a unpredictable and twisting plot. The only thing I didn't like was that the acting wasn't great other than the main character and her mother. I recommend this movie to all teenagers and parents of teenagers. I do not recommend this movie for kids younger than 12 because there is suggestive content. . . "
Personally, I think the movie has its merits, and maybe some of the content misunderstood. It might be confusing to think a "pretty girl" would be weak enough to be bullied, but that's assuming she always was pretty and popular and not haunted by previous dislike or discrimination from her social interactions. Underneath who we are today, are still reflections of who we were before. Some might think a person with "a brain" wouldn't let it get to the extreme it did, however, when someone is under such stress they may not be acting completely logically or feeling in control. The movie did spark realistic to me, as teenagers do place great importance of what their peer group thinks, and the beat-down Taylor felt was a reality she didn't know how to handle. Very few teenagers are prepared to face such treatment, despite how often we tell them to "just ignore it."
The movie has reached millions of people -- US and worldwide. Agree with it, or not, it has the young people talking, debating, and listening. Despite how many saying it wasn't the success it could have been, it has teenagers and parents talking about bullying, and to me, that's a success in itself. The more young people that don't suffer the end that Megan Meier did, the more we know movies like this are worthwhile.
Cyberbully was a straight-to-TV movie for ABC Family. However, the movie can be found in full-length on youtube due to so many people being passionate about the movie being shared and understood. Keep a box of tissues nearby!